Andy is a passionate educator, with over 25 years performance and recording experience from which to draw. Focusing on performance technique through the Moeller method and matched grip playing, he specialises in rock and pop styles.
From receiving his Bachelor's degree in Music from The University of Leeds, Andy moved straight to work in FE education. After three years of teaching across music performance and technology courses, he enrolled at The Collective, New York, studying with Kim Plainfield, Jason Gianni, and Mark Flynn. While in the States he also had the privilege to study under Dom Famularo, at his Long Island studios, and continues his studies and work with Dom today.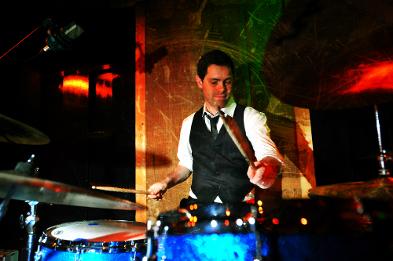 Andy has recorded and produced for a number of artists and his own groups, and has played support slots with The Futureheads, Koufax, 90 Day Men, and Kaiser Chiefs. Alongside currently playing for Nottingham-based 'rockaoke' group The Experience, Andy can also be seen playing guitar in Foo Fighters tribute act, Feu Fighters!

In addition to private drum tuition, Andy is also available for recorded/ live session work, and audio production.

Andy has a full and current DBS check (formerly CRB, dated May 2017), is a member of and registered teacher with the Musicians Union, and maintains professional practices including completion of the EduCare Child Protection in Education (Music) course (Aug. 2016).
Copyright © 2020. All rights reserved | Andy Thurston